Trash Can Covers - Black Spandex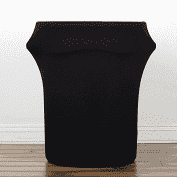 Description
Introducing our versatile and practical Trash Can Covers made with premium quality black spandex material. These covers are designed to fit snugly over standard-sized trash cans, transforming them into sleek and stylish accessories that seamlessly blend in with any decor.
Not only do these covers enhance the appearance of your trash cans, but they also provide an excellent solution for keeping your trash cans clean and hygienic. The spandex material is easy to clean and maintain, and it stretches to fit snugly over the trash can, ensuring that no unsightly trash is visible.
Whether you're using these covers for your home, office, or event space, they are sure to add a touch of sophistication and practicality to your waste management system. Don't settle for boring and unsightly trash cans - upgrade them with our Black Spandex Trash Can Covers today!