Table Cloth - 6 Ft. Rectangle - 90" x 132"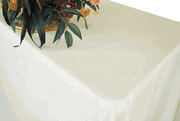 Description
*ALL colors other than White, Ivory and Black Items must be reserved and paid for in full at least 5 business days prior to your event date.
*No Refunds*
Linen and Coverings – Color Pigments, cleaning and care of fabrics. As with all manmade and naturally manufactured items Tablecloths, Linens, Runners, Sashes, drapery, fabric, Chair Covers and Napkins all slightly vary in color shade based on material used, dye lots, manufacturer, manufacture dates, machine used, laundry and professional pressing of linens. Torkay Event Services LLC. Does everything in their power to minimize the variations in colors when it comes to our linens and décor coverings and try and match lot colors as much as possible when delivering our customers' orders but accepts no liability if colors vary between items rented. No refunds will be given for varying color shades on in stock items or special ordered items. Customer is also in full agreement that computer, tablet and phone screen resolutions and viewed color on all devices differs and can vary in appearance in person versus on an electronic screen. We professionally launder and press all our linens and above listed items between each rental and constantly review the worn status of our materials but accept no liability or will issue any refunds for slight stains, holes and/or blemishes that are incurred by previous Customer usage. All our linens are professionally laundered in commercial machines using the latest washing and sanitation procedures and all Polyester and Satin linens, napkins, chair sashes and runners are professionally pressed folded and hung on drapery hangers and/or in plastic to minimize folding creases and transportation wrinkles. If setup and teardown is not an elected service Customer accepts responsibility of napkin folding to their liking for meal service as all napkins are delivered pressed as flat squares in plastic after professional cleaning and delivery. Customer accepts full responsibility to final pressing of any above listed items after placement on tables and/or chairs if minor wrinkles or folding creases are found to be unacceptable to customers liking. Torkay Event Services LLC. does not carry or provide irons and/or steamers to customer delivery sites and delivery staff is not trained in the profession of Linen wrinkle removal. SPANDEX linen items and covers will be delivered non hanger hung and may appear to be wrinkled due to the nature of the fabric, but wrinkles dissipate after install of said item. Any iron burns, holes, impressions and/or damage that the Customer makes with their own equipment to any rented linens, tablecloths, napkins, fabric, sashes, chair covers will be charged directly to customer immediately after event occurs. Payment in full is expected within 48 hours of invoicing to avoid late charges of the highest level allowed by Texas and California state law.