Small Box Fan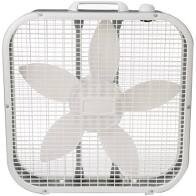 Description
Introducing our Small Box Fan, the perfect solution for keeping cool in small spaces. This compact fan is designed to provide powerful and efficient airflow while taking up minimal space. Its sleek and modern design makes it a great addition to any room, whether it's your office, bedroom, or living room.
The Small Box Fan features three speed settings that allow you to customize the airflow to your liking. It also has a built-in handle for easy portability, so you can take it with you wherever you go. The fan's quiet operation ensures that it won't disrupt your work or sleep, making it a great option for those who need a little extra breeze without the noise.
This fan is easy to use and maintain. Its removable front grill allows for easy cleaning, and its compact size makes it easy to store when not in use. With its energy-efficient design, the Small Box Fan is an eco-friendly choice that will help you save on your energy bills.
In summary, our Small Box Fan is a powerful, efficient, and convenient solution for staying cool in small spaces. Its sleek design, customizable speed settings, and quiet operation make it a great addition to any room. Rent yours today and experience the comfort of cool air wherever you go.