Horseshoe Pit Set with sand and horseshoes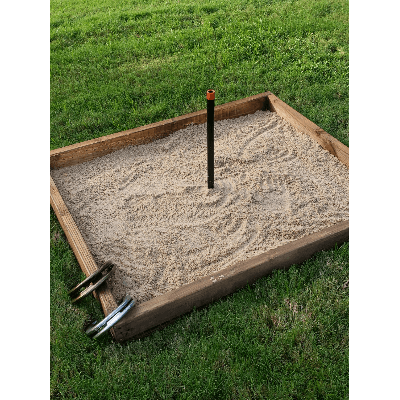 Description
Looking for a fun and engaging outdoor activity that everyone can enjoy? Look no further than our Horseshoe Pit Set! This set includes everything you need to start playing horseshoes right away, including a set of four horseshoes and a bag of sand to create the perfect pit.
Crafted from high-quality materials, our horseshoes are designed for hours of fun at your special event and feature a classic design that is perfect for casual games with family and friends. The sand included in the set is specially formulated to provide the ideal playing surface, ensuring that each toss is accurate and true.
Whether you're hosting a backyard barbecue, planning a family reunion, or just looking for a fun way to spend an afternoon, our Horseshoe Pit Set is the perfect addition to any outdoor gathering. So why wait? Rent your set today and start enjoying the timeless fun of horseshoes!