Hand Wash Station Fully Stocked (2 Sinks)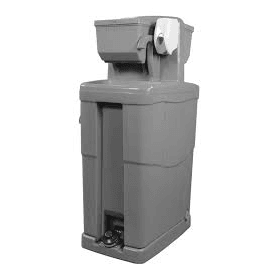 Description
Introducing our Hand Wash Station Fully Stocked with 2 Sinks, the perfect solution for any event or workplace where proper hand hygiene is essential. This portable hand wash station is fully stocked with everything you need to keep your hands clean and germ-free.
Equipped with two sinks, this hand wash station is perfect for high-traffic areas where multiple people need to wash their hands at the same time. The station is designed with convenience in mind, featuring easy-to-use foot pumps that dispense water and soap.
Our Hand Wash Station is also fully stocked with all the essentials, including soap, paper towels, and waste receptacles, so you can be confident that your guests or employees have everything they need to maintain proper hand hygiene. Plus, the compact and lightweight design makes it easy to move the station to different locations as needed.
Don't compromise on cleanliness and hygiene - choose our Hand Wash Station Fully Stocked with 2 Sinks for your next event or workplace.