Extension Cord - Heavy Duty - 50Ft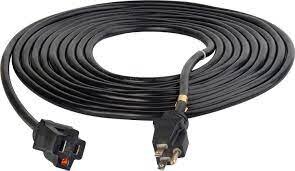 Description
Introducing our Heavy Duty 50ft Extension Cord, designed to provide reliable and safe power supply to your devices and appliances. This extension cord is made with high-quality materials that can withstand heavy usage and outdoor conditions.
The cord is constructed with a durable vinyl jacket that resists moisture, abrasion, and prolonged exposure to sunlight. It also features a grounded plug and outlet for added safety and protection against electrical shock.
The 50ft length of the cord provides ample reach to power your devices and appliances from a distance. It is perfect for use in outdoor settings such as construction sites, landscaping projects, and outdoor events.
Whether you need to power your power tools, lighting fixtures, or other electrical devices, our Heavy Duty 50ft Extension Cord is the perfect solution for your power needs. Invest in this reliable and durable extension cord today and enjoy uninterrupted power supply for years to come.