Double Door Commercial Refrigerator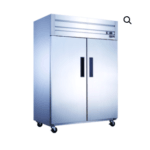 Description
Introducing our Double Door Commercial Refrigerator, the ultimate solution for your commercial refrigeration needs. With its spacious interior and durable construction, this refrigerator is perfect for restaurants, cafes, and other food service establishments.
Featuring two solid doors, this refrigerator provides ample storage space for all your perishable items. The doors are made of high-quality stainless steel and are equipped with heavy-duty hinges, ensuring they remain securely closed at all times.
The interior of the refrigerator is made of food-grade stainless steel, which is easy to clean and maintain. The shelves are adjustable, allowing you to customize the interior to suit your specific needs.
The refrigerator is also equipped with a digital temperature control system, ensuring that your food stays fresh and at the optimal temperature at all times. The temperature can be easily adjusted using the user-friendly control panel.
In addition to its practical features, this refrigerator also boasts a sleek and modern design that will complement any commercial kitchen. Its compact size makes it easy to fit into any space, while its durable construction ensures it will provide reliable performance for years to come.
Invest in our Double Door Commercial Refrigerator today and experience the convenience, reliability, and durability that it has to offer.
This is a perfect rental for caterers, restaurants or for public community events and of course for any Houston Rodeo Cookoff Tent.