Commercial Patio Heater - Hammered Bronze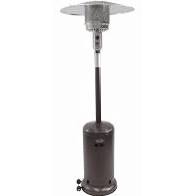 Description
Introducing our Commercial Patio Heater in Hammered Bronze, the perfect addition to your outdoor space! This sleek and stylish heater is designed to keep you and your guests warm and comfortable, even on the chilliest of nights.
Crafted from durable materials, this patio heater features a hammered bronze finish that adds a touch of elegance to any setting. It stands at an impressive 7 feet tall, making it the perfect height to provide ample warmth for your outdoor gatherings.
With a powerful heat output of up to 46,000 BTUs, this patio heater is capable of heating up a large area quickly and efficiently. It features a reliable ignition system and an adjustable heat control, allowing you to customize the heat output to your desired level.
The Commercial Patio Heater in Hammered Bronze is also designed with safety in mind. It features a built-in safety auto shut-off tilt valve, which ensures that the heater will shut off automatically if it is accidentally knocked over.
Easy to assemble and operate, this patio heater is the perfect addition to any outdoor space. Whether you're entertaining guests, enjoying a quiet night under the stars, or simply relaxing with a good book, the Commercial Patio Heater in Hammered Bronze is sure to keep you warm and comfortable all season long.