Chocolate Fountain Package A: Perfect for up to 70 guests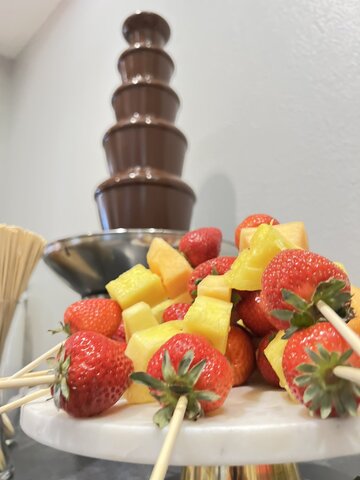 Description
Includes: 15 Pounds of premium Belgium chocolate One Deluxe Commercial 35 inch tall fountain, 2 Hours of flowing Premium Belgium chocolate 100 Dipping Skewers - return the fountain to us and we even take on the messy task of cleaning and sanitizing it so you don't have to.
Indulge in the ultimate chocolate experience with our Chocolate Fountain Package A, perfect for up to 70 guests. This package includes a stunning, high-quality chocolate fountain that will impress your guests and provide a delicious centerpiece for your event.
Our fountain is easy to use and comes with a variety of dipping options, including fresh fruit, marshmallows, and pretzels. The chocolate is made from the finest ingredients, ensuring a smooth and rich flavor that will tantalize your taste buds.
Our package also includes a professional attendant who will set up and maintain the fountain throughout your event, ensuring that your guests have a seamless and enjoyable experience.
Whether you're hosting a wedding, corporate event, or birthday party, our Chocolate Fountain Package A is the perfect addition to any celebration. So why wait? Book your package today and give your guests an unforgettable chocolate experience they'll never forget!