4ft. x 4ft Stage Piece Section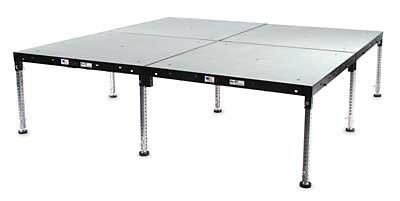 Description
STAGE SIZING AND CONFIGURATION: Staging can be configured in any square or rectangle shape as long as it is divisible by 4 Ft by 4 Ft and the total number of pieces is not above the current inventory availibility.
Here are some quick examples of some of the stage sizes that are possible:
8x8 Stage = 4 Pieces of Staging
8x12 Stage = 6 Pieces of Staging
12x12 Stage = 9 Pieces of Staging
16x16 Stage = 12 Pieces of Staging
16x20 Stage = 20 Pieces of Staging
16x24 Stage = 24 Pieces of Staging
STAGE HEIGHT OPTIONS - *We have 2 height options when it comes to the staging either 2 foot tall or 6inches.
Introducing our 4ft. x 4ft Stage Piece Section, the perfect addition to any event or performance. This sturdy and durable platform is made of high-quality materials, ensuring a safe and stable surface for performers to showcase their talents. With its compact size, this stage piece section is easy to transport and set up, making it ideal for indoor and outdoor events. Its modular design allows you to combine multiple sections to create a larger stage area, giving you the flexibility to customize your setup to fit your specific needs. Whether you're hosting a concert, play, or dance performance, our 4ft. x 4ft Stage Piece Section is the perfect solution for creating a professional and polished stage setup. So why wait? Order yours today and take your event to the next level!
Staging for carnivals, company parties, community events, and so much more. We provide staging and platform rentals in communities throughout Houston, TX and Cypress, TX including Towne Lake, Bridgeland, Lakes of Fairhaven, Blackhorse Ranch, Fairfield, Stone Gate, Alder Trails, and more.
In addition to staging and platform rentals in Houston, TX, Torkay Event Services offers a full range of rental equipment and staffing services to help make planning your next big event a seamless experience. As a local business, we specialize in serving customers throughout Harris County, Waller County, and Montgomery County, including those in the 77433, 77429, 77377, and 77095 ZIP codes