2 - Unit VIP Toilet Trailer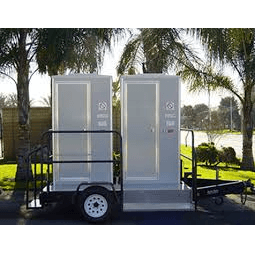 Description
Introducing our 2-Unit VIP Toilet Trailer, the perfect solution for any outdoor event or construction site. This unit features two separate toilets, each with its own private entrance, ensuring maximum privacy and comfort for your guests.
The VIP Toilet Trailer is designed with luxury in mind, featuring modern amenities such as air conditioning, heating, and ample lighting. The interior is spacious and well-ventilated, ensuring a comfortable experience for all users.
The toilets themselves are of the highest quality, featuring porcelain toilets, stainless steel sinks, and high-end fixtures. The units are also equipped with a fresh water tank and a waste tank, ensuring that they are self-contained and do not require any external plumbing.
The exterior of the trailer is sleek and professional, making it the perfect addition to any event or construction site. It is also easy to transport, with a sturdy trailer hitch and wheels that can be easily attached to any vehicle.
Overall, our 2-Unit VIP Toilet Trailer is the perfect solution for anyone looking to provide a luxurious and comfortable restroom experience for their guests or workers.