Dinner Napkins - 20x20 Polylester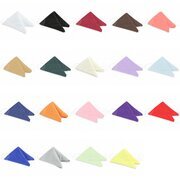 Polyester Napkin Rentals from Torkay Event Services
Torkay Event Services understands that even the smallest details can add a touch of elegance and sophistication to any event. Our polyester napkin rentals are a testament to this understanding. Crafted with care, these napkins are not just a practical necessity but a stylish accessory that adds depth and detail to your table setting.
Available in a diverse palette of colors, our polyester napkins can complement any theme or color scheme. From vibrant reds to calming blues, you can mix and match according to your event's aesthetics.
Each napkin is made from high-quality, durable polyester that not only resists wrinkles and stains but also boasts an elegant drape. Their soft texture and hemmed edges provide a comfortable feel and elegant appeal.
By incorporating Torkay's polyester napkin rentals into your event, you're ensuring a level of detail and sophistication that's hard to ignore. Each table will look meticulously planned, and every guest will feel pampered, all thanks to a touch as simple and elegant as a napkin. Don't forget to check out our professional characters and performers as well!